IV3GRS - 1RGK463 Home Page
Benvenuto nel mio sito. Welcome to my website. Willkommen auf meiner website.  Bienvenue sur mon site. Bienvenidos a mi página. Bien vindo ao meu site.
La passione per il mondo del radiantismo la coltivo fin da piccolo, affascinato dall'occhio magico e dalle voci che sentivo dal Telefunken Domino mod. R172, sostituita poi (nel 1976) da un moderno radioricevitore a transistor Philips 750.
Nella seconda metà del 1976, anno in cui la mia regione Friuli Venezia Giulia fu colpita dal terremoto, le cose cambiarono radicalmente, perchè mi fu regalato un ricetrasmettitore CTE 3 Watt, 3 canali modello CX318; finalmente oltre ad ascoltare potevo anche parlare!
I am passionate about the world of amateur radio as a child, fascinated by the magic eye and the voices thath I heard from Telefunken Domino mod. R172, replaced then (in 1976) by a modern transistor radio receiver Philips 750.
In the second half of 1976, when my region Friuli Venezia Giulia was hit by the earthquake, things changed radically, because gave me a transceiver CTE 3 Watt, 3 channel model CX318; finally besides listening could even talk!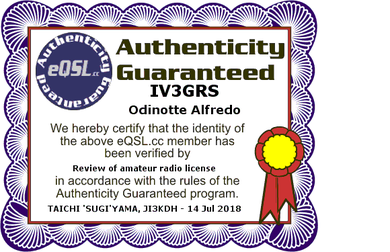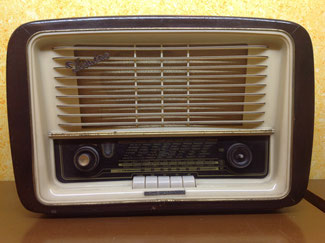 Telefunken Domino Mod. R172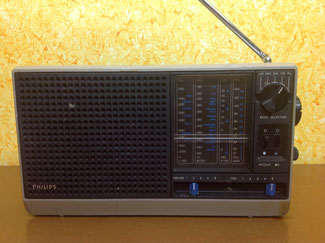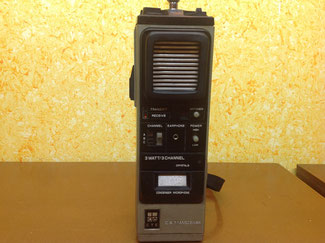 CTE Mod. CX318, 3 W, 3 Ch.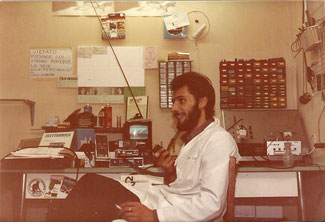 Era circa il 1980 ... ops... avevo anche i capelli!
Indicativo 11 metri 1MU063.
Was about 1980 ... ops... I also had hair!
11 meters CallSign 1MU063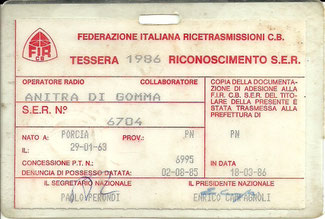 Anno 1986, dopo alcuni anni attività di radio assistenza in supporto a svariate manifestazioni culturali e sportive, inizio anche l'esperienza con la protezione civile nel Servizio Emergenza Radio.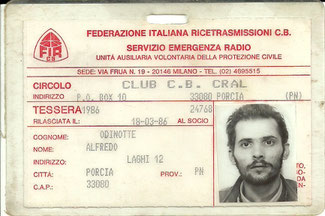 Year 1986, after several years of radio assistance activities in support to various cultural and sporting events , beginning the experience with civil protection.
Guarda il sito / See Website :
Attualmente opero con l'indicativo IV3GRS
Guarda il mio profilo su qrz.com o su qrzcq.com
in 11 metri con l'indicativo 1RGK463.
Guarda il mio profilo sul sito qrz11.net
Currently  I  work with CallSign IV3GRS
See my profile page on website qrz.com
in 11 meters with CallSign 1RGK463.
See my profile page on website qrz11.net
Sono attivo anche come SWL con l'indicativo I/11223.
 I am also active as SWL with CallSign I/11223.
                  73 de Alfredo
ARI, Associazione Radioamatori Italiani, AIR, Associazione Italiana Radiascolto, CISAR, Centro Italiano di sperimentazione ed Attività Radiantistiche, CB, Citizen Band, Banda cittadina, Ricetrasmittenti, Transceivers, Ricetrasmettitore, Transceiver, Ricetrasmettitori, Rosmetri , SWR meter, Rosmetro, Wattmetro, Wattmeter, Wattmetri, Accordatore, Tuner, Accordatori, Amplificatore lineare, Amplifier, Antenna, Dipolo, Dipole, Quad, Windom, Delta Loop, Slooper, Quagi, Halo, J-Pole, Morgain, Long Wire, Coke, Balun, Antenne, Antennas, Yagi-Uda, Ground Plane, Multibanda, Multiband, Direttiva, 5/8, ½, ¼ onda,  lambda, LF, HF, VHF, UHF, SSTV, APRS, AMTOR, RTTY, Packet Radio, DSTAR, QPSK, MFSK, BPSK, Contestia, DominoEx, Feld Hell, MT63, Olivia, Thor, PSK31, ROS, JT65, Alinco, AOR, 
mercatino, usato,ricetrasmettitore usato, microfono usato,antenna usata, ricetrasmettitore vintage, microfono vintage, radiomercato, ham radio shop, accessori radiotrasmettitore usato, ricambi ricetrasmettitore, download progetto antenna microfono amplificatore lineare, lineare usato, amplificatore usato, shop online,iv3grs, Baofeng, CTE, Geloso, Icom, Intek, JRC, Kenwood, Lafayette, MFJ, Midland, Polmar, President, Radioshack, Ranger, Sommerkamp, Stabo, Standard, Tcom, Turner, Uniden, Yaesu, Band Plan,  160 metri, 160 meters, 80 Metri, 80 meters, 40 metri, 40 meters, 20 metri, 20 meters, 15 metri, 15 meters, 12 metri, 12 meters, 11 metri, 11 meters, 10 metri, 10 meters, 3.5  4.0 MHz, antenna, antennas, antenne, yagj, quad,windom, ground plane, dipolo, morgain, warc, slooper, delta loop, quagi, halo, eh, hf, vhf, uhf, shf, folder dipolo, long wire, choke bal-un, bal-un, un-un.